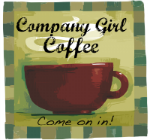 This is the first week that I am participating in the Company Girl Coffee over at http://www.homesanctuary.com/ You should really check it out, as it looks like so much fun. That is why after visiting over there I just had to join in the fun.
This past week has been really busy to say the least. We only have one vehicle right now, so the kids and I have been taking Daddy to work and picking him back up. I guess we could have just left him there forever and saved on gas, but I suppose we do like to have him at home sometimes.
My 2 year old starting his therapies this week. He had speech and OT through an Early Childhood Intervention Program. The best part is that they come right to the house!! Along with that fun stuff, my oldest two started back to homeschool on Monday. So far I am very happy with the materials I picked out. I still find it funny that the kids think they had a break from school when really they did workbooks and such all summer long. I am such a mean mommy that i never gave them a real break.
I started to fill our freezer with all kinds of yummy things, which i will write about later today. I will be happy when i get everything cooked and baked up.
Next week will be a week of, schooling, cleaning, and organizing around here, so I am sure I will have lots to blog about.